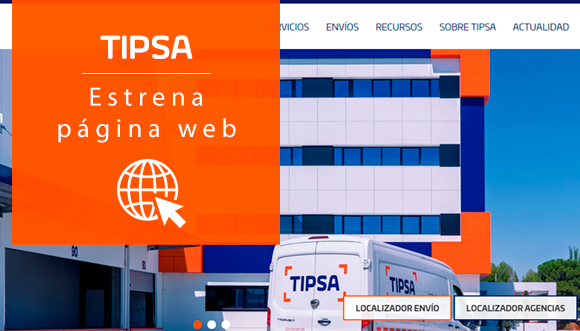 TIPSA renews its website to reinforce the communication of its value-added services
The express transport company TIPSA has launched a new website with which it intends to strengthen the dissemination of its value-added services, with special emphasis on the e-commerce, pharmaceutical and international sectors.
The renewed portal www.tip-sa.com has a structure adjusted to current programming canons and aimed at disseminating and improving the user experience. Likewise, the technology used in its development allows it to be an intuitive website with a modern and 'responsive' design.
Regarding its contents, the portal maintains the historical archive of the previous page, with more than 1,500 entries, while offering new resources. In addition, this new website is multi-language (Spanish, English and Portuguese), thus adapting to the geographical scope of the company.
"TIPSA has as of today one of the most modern, intuitive and functional express transport web pages in Spain", highlighted the company's CEO, Antonio Fueyo.
Parallel to the new website, TIPSA continues to reinforce the digitization of its relationship with customers and recipients, expanding its practices and digital content with the creation of the newsletter "TIPSA al Día", with which it provides current information on logistics and related sectors.