Space is a scarce resource in express transport and this is reflected in the actual cost structure. Aeroplanes, trucks and containers are often filled before they reach their weight limit, which is why volume is becoming the new standard for calculating shipping costs.
Volumetric weight vs. actual weight = billable weight.
Today, most major transport companies calculate the volumetric weight and compare it with the actual gross weight. The higher of the two weights is used as the billing weight.
How to calculate volumetric weight
The calculation of volumetric weight is based on determining the cubic size of an object and applying a volumetric factor.
To calculate the volumetric weight of your shipment, multiply Length x Width x Height (cm) x cubic capacity (kg / m3) and divide it by 1,000,000.
Formula:
length x width x height x cubic capacity
---
1,000,000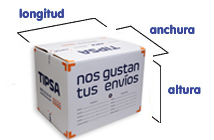 Calculate the volumetric weight: